The Texas county map Template in PowerPoint format includes three slides. Firstly the Texas map with neighboring states and countries. Secondly the Texas map labeled with county names. The third is the Texas region map grouped by counties. You can also find our Virtual Reality, Carbon neutral, Circular economy, Carbon footprint, Data Mining, Machine Learning, cloud computing, Artificial Intelligence and BlockChain templates.
Slide 1, Texas location map
Our State of Texas map is for the southernmost state in the southern region of the United States; the neighboring states are New Mexico, Arkansas, Oklahoma and Louisiana, Mexico is the country with land border with Texas. The Mexico Gulf and Atlantic Ocean are surrounding the state. Other populated states are Florida and Pennsylvania.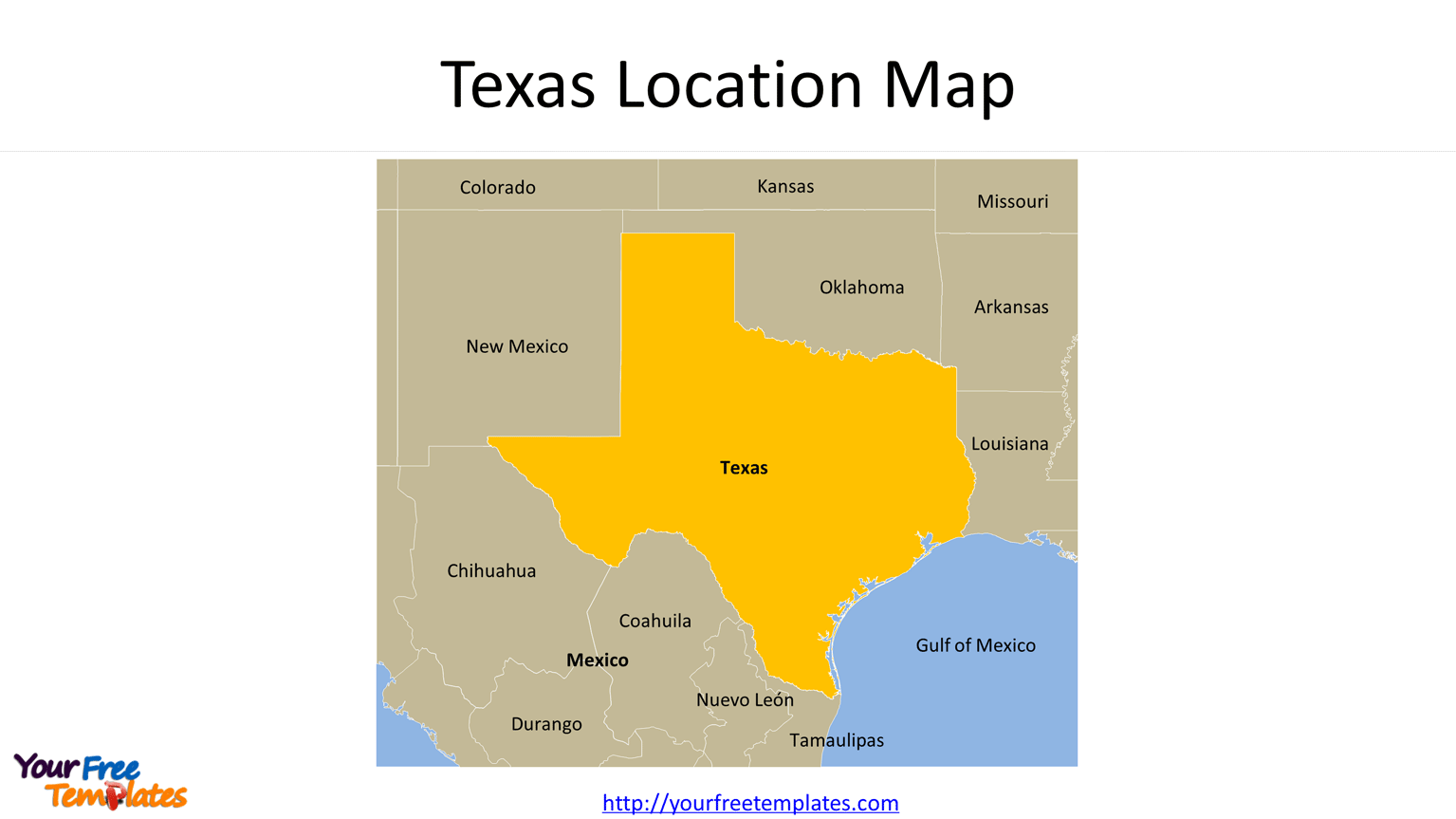 Slide 2, US Texas county map with 253 counties
There are 253 Counties in our Texas County Map. They are Anderson, Andrews, Angelina, Aransas, Archer, Armstrong, Atascosa, Austin, Bailey, Bandera, Bastrop, Baylor, Bee, Bell, Bexar, Blanco, Borden, Bosque, Bowie, Brazoria, Brazos, Brewster, Briscoe, Brooks, Brown, Burleson, Burnet, Caldwell, Calhoun, Callahan, Cameron, Camp, Carson, Cass, Castro, Chambers, Cherokee, Childress, Clay, Cochran, Coke, Coleman, Collin, Collingsworth, Colorado, Comal, Comanche, Concho, Cooke, Coryell, Cottle, Crane, Crockett, Crosby, Culberson, Dallam, Dallas, Dawson, Deaf Smith, Delta, Denton, DeWitt, Dickens, Dimmit, Donley, Duval, Eastland, Ector, Edwards, Ellis, El Paso, Erath, Falls, Fannin, Fayette, Fisher, Floyd, Foard, Fort Bend, Franklin, Freestone, Frio, Gaines, Galveston, Garza, Gillespie, Glasscock, Goliad, Gonzales, Gray, Grayson, Gregg, Grimes, Guadalupe, Hale, Hall, Hamilton, Hansford, Hardeman, Hardin, Harris, Harrison, Hartley, Haskell, Hays, Hemphill, Henderson, Hidalgo, Hill, Hockley, Hood, Hopkins, Houston, Howard, Hudspeth, Hunt, Hutchinson, Irion, Jack, Jackson, Jasper, Jeff Davis, Jefferson, Jim Hogg, Jim Wells, Johnson, Jones, Karnes, Kaufman, Kendall, Kenedy, Kent, Kerr, Kimble, King, Kinney, Kleberg, Knox, Lamar, Lamb, Lampasas, La Salle, Lavaca, Lee, Leon, Liberty, Limestone, Lipscomb, Live Oak, Llano, Loving, Lubbock, Lynn, McCulloch, McLennan, McMullen, Madison, Marion, Martin, Mason, Matagorda, Maverick, Medina, Menard, Midland, Milam, Mills, Mitchell, Montague, Montgomery, Moore, Morris, Motley, Nacogdoches, Navarro, Newton, Nolan, Nueces, Ochiltree, Oldham, Orange, Palo Pinto, Panola, Parker, Parmer, Pecos, Polk, Potter, Presidio, Rains, Randall, Reagan, Real, Red River, Reeves, Refugio, Roberts, Robertson, Rockwall, Runnels, Rusk, Sabine, San Augustine, San Jacinto, San Patricio, San Saba, Schleicher, Scurry, Shackelford, Shelby, Sherman, Smith, Somervell, Starr, Stephens, Sterling, Stonewall, Sutton, Swisher, Tarrant, Taylor, Terrell, Terry, Throckmorton, Titus, Tom Green, Travis, Trinity, Tyler, Upshur, Upton, Uvalde, Val Verde, Van Zandt, Victoria, Walker, Waller, Ward, Washington, Webb, Wharton, Wheeler, Wichita, Wilbarger, Willacy, Williamson, Wilson, Winkler, Wise, Wood, Yoakum, Young, Zapata, and Zavala. The most populated counties in Texas State are Harris County, Dallas County, Tarrant County, and Bexar County.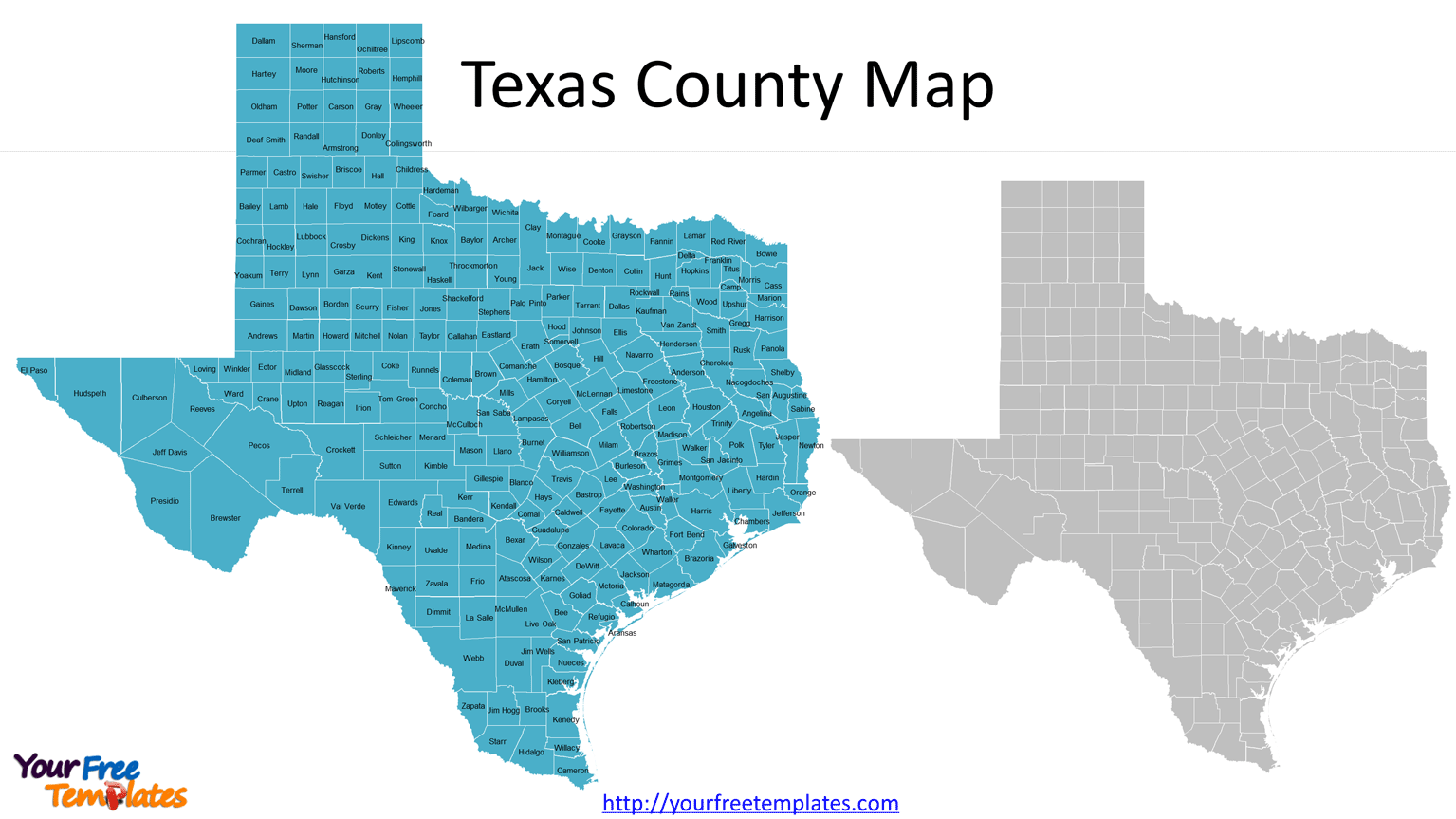 Slide 3, Texas region map by counties
It is known that this State is divided into 7 regions, which are Panhandle, North Texas, Central Texas, East Texas, West Texas, South Texas, and Upper Gulf Coast.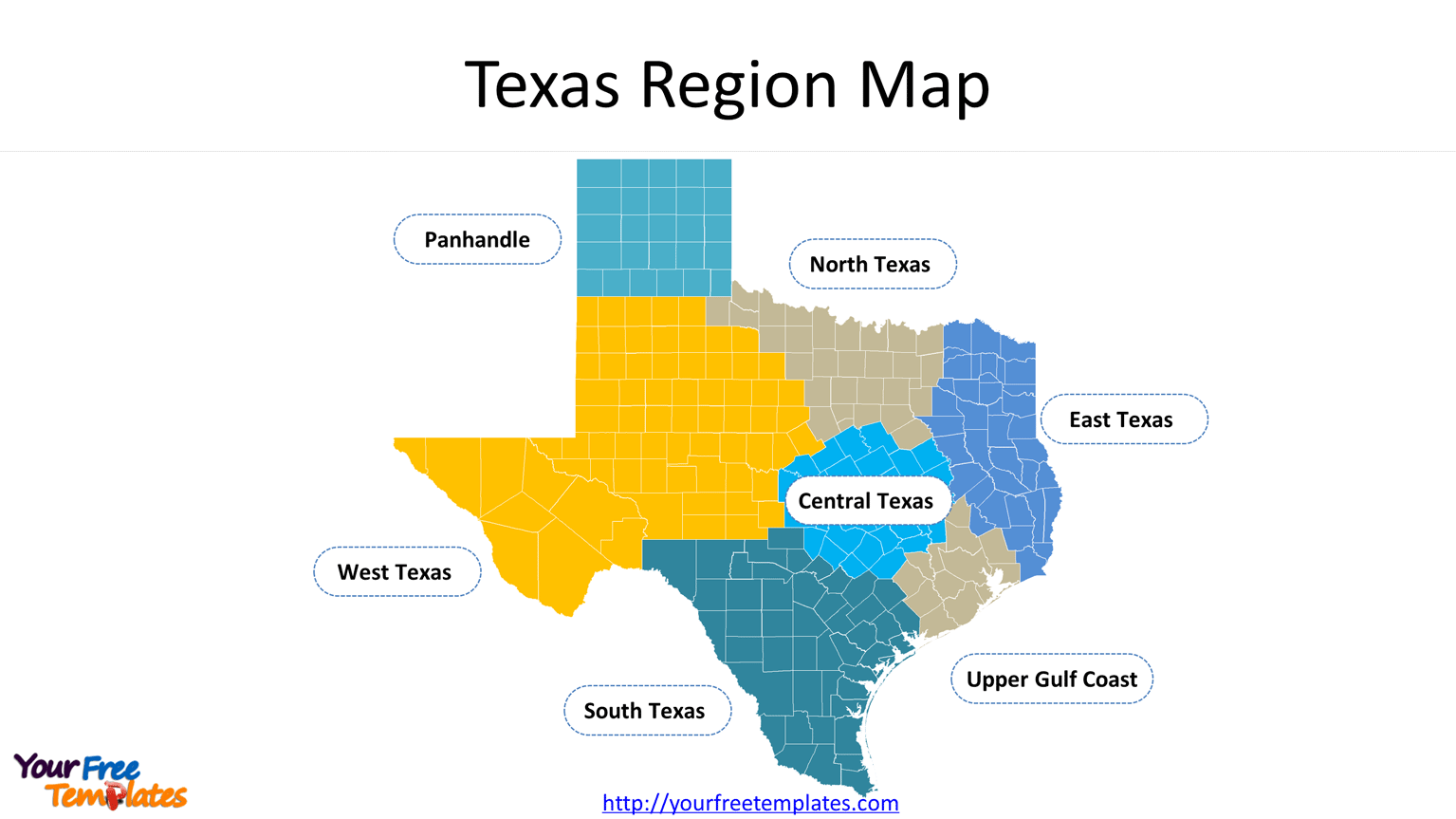 For detailed pls refer to Simple Wikipedia.
Size:2075K
Type: PPTX