The Map of India Template in PowerPoint format includes two slides, that is, the India outline map and India political map. Firstly, our India outline map blank templates has capital and major cities on it, which are New Delhi, Mumbai, Bengaluru, Kolkata, Chennai, Ahmedabad, Hyderabad, Pune, and Kanpur. Secondly, there are 22 States in our India map blank templates, five autonomous regions, four municipalities and 3 Special Administrative Regions in our India map template of divisions, labeling the most populated States that are Uttar Pradesh, Maharashtra, Bihar, West Bengal, and Madhya Pradesh.
The India Map blank templates include two slides.
Slide 1, Map of India labeled with capital and major cities
Our Map of India is for the country in South Asia. India is the seventh-largest country by area, the second-most populous country (with over 1.2 billion people) in the world. Her neighboring oceans and countries are as followed. It is that the Indian Ocean on the south, the Arabian Sea on the southwest, and the Bay of Bengal on the southeast. India shares land borders with Pakistan from the west; then China, Nepal, and Bhutan from the northeast; next Myanmar (Burma) and Bangladesh from the east. In the Indian Ocean, India is in the vicinity of Sri Lanka and the Maldives. Since our India map slide has the editable capital and major cities on the outline, therefore users can use the map templates to create their unique India maps and use them in different presentations.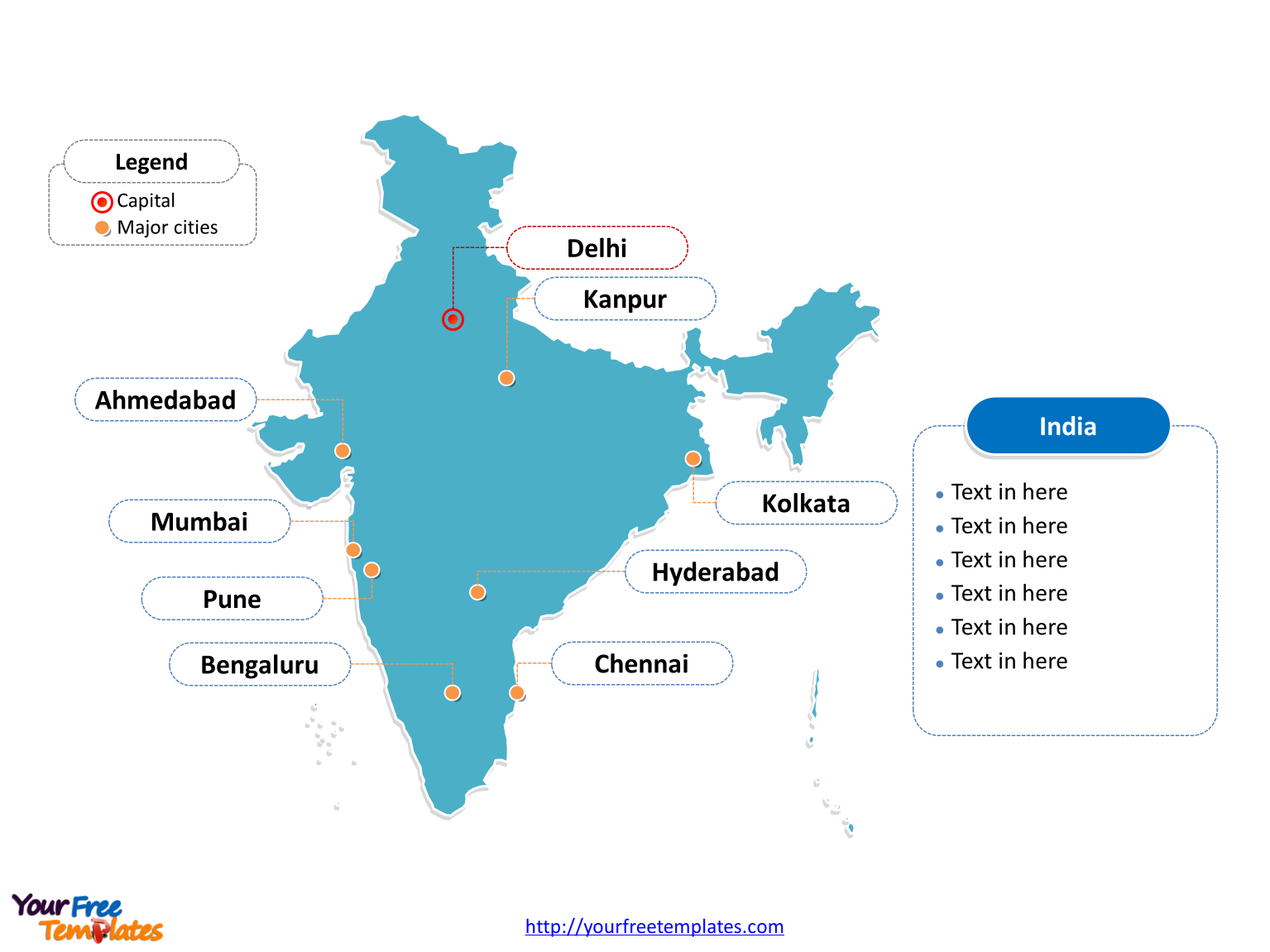 Slide 2, Map of India labeled with major States
Our India map is a country map with 29 states, and 7 union territories.
Firstly, there are 29 states; they are Andhra Pradesh, Arunachal Pradesh, Assam, Bihar, Chhattisgarh, Goa, Gujarat, Haryana, Himachal Pradesh, Jammu and Kashmir, Jharkhand, Karnataka, Kerala, Madhya Pradesh, Maharashtra, Manipur, Meghalaya, Mizoram, Nagaland, Odisha, Punjab, Rajasthan, Sikkim, Tamil Nadu, Telangana, Tripura, Uttar Pradesh, Uttarakhand, and West Bengal;
Secondly, there are 7 union territories (including a national capital territory); they are Andaman and Nicobar Islands, Chandigarh, Dadra and Nagar Haveli, Daman and Diu, Delhi, Lakshadweep, and Puducherry.
At the same time detailed India map of political administrative divisions please refer to India-Wikipedia. Furthermore every individual political subdivision is an editable shape. As a result, you can change the texts, colors, sizes, highlight some map shapes, and add your icons or diagrams. Believe it or not, analysts from marketing research companies, consultants from professional firms have appreciated our efforts very much; because our maps can assist them improve the level of their docks.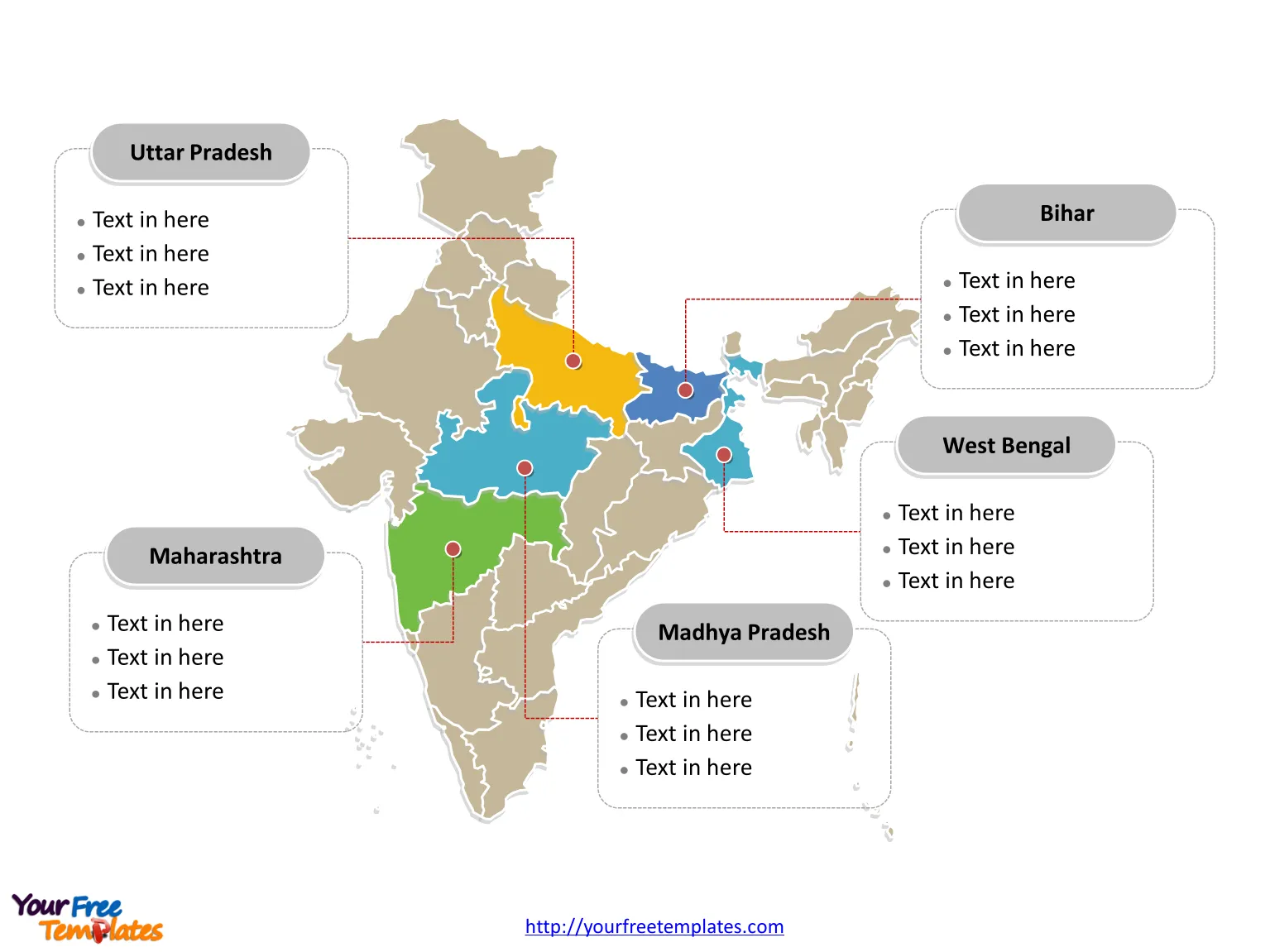 Size: 155K
Type: PPTX

[sociallocker]Aspect Ratio: Standard 4:3
Click the blue button to download it.
Download the 4:3 Template
Aspect Ratio: Widescreen 16:9
Click the green button to download it.
Download the 16:9 Template[/sociallocker]