The printable 2022 calendar template in PowerPoint format includes 16 slides of five styles for monthly layout.  You can also find our annual calendar 2021, 2021 calendar monthly template, calendar 2020, calendar 2020 monthly, free printable calendar 2019 and calendar 2018.
For the first part, we have all in one and six-month per slide template for next year with, and then you can enjoy four-month and three-month per slide diagram layout of 2022, in the end we present two-month per slide. Federal holidays for the USA are labeled for three-month layout.
Slide 1, Editable all in one monthly 2022 calendar template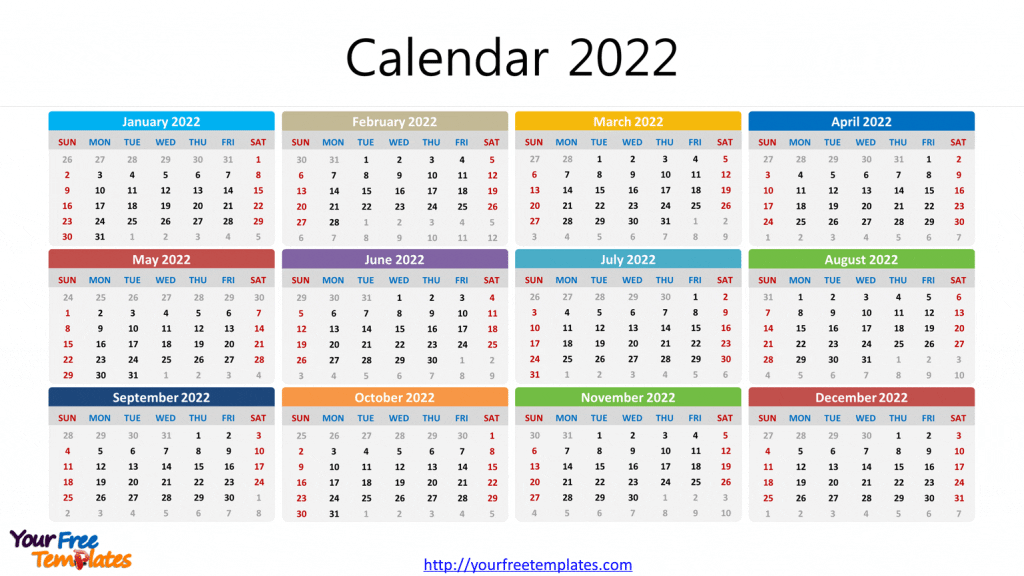 Slide 2~3, Editable six in one monthly 2022 calendar template

The Chinese New Year for the year 2022 is celebrated/ observed on Tuesday, February 1. People will take a 7-day long holiday as usual, so business activities should be mulled during second half of January and first half of February. Bear this in mind when you have involved business activities and events in China during this period.
The other important event in 2022 is the 2022 Winter Olympics is due to take place from February 4 to 20, 2022 in Beijing, the capital of China and its co-host city, Zhangjiakou in Hebei Province. This timing is coincided with the Lunar Spring Festival, which will make Bohai Bay Rim region to be highly focused. Plants will lower operation rates or even shut down for this grand event.

Slide 4~6, Editable four in one monthly 2022 calendar template
For football fans, it is worth mentioning that FIFA World Cup 2022 will be held in Qatar of Middle East from November 21 to December 18. So you can schedule to enjoy the wonderful matches before the Christmas Holiday.



Slide 7~10, Editable three in one monthly 2022 calendar template with US federal Holidays
Slide 11~16, Editable two in one monthly 2022 calendar template

For detailed info on it, please refer to Wikipedia.
Size:325K
Type: PPTX

[sociallocker]Aspect Ratio: Standard 4:3
Click the blue button to download it.
Download the 4:3 Standard Template
Aspect Ratio: Widescreen 16:9
Click the blue button to download it.
Download the 16:9 Widescreen Template
[/sociallocker]